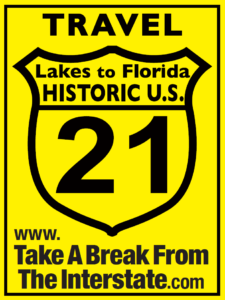 The Wythe County Department of Tourism has announced that the county will again be participating in the second annual "U.S. 21 Road Market," scheduled for July 24, 25 and 26, 2015.
The three-day road market is the product of the multistate initiative known as "Take a Break from the Interstate," and is designed to encourage economic activity along U.S. Route 21.
This year's road market has expanded by more than 30 miles and will stretch from Wytheville to Harmony, North Carolina, featuring hundreds of yard sales, street sales and community events along the historic route.
"Going into last year's inaugural road market, no one really knew what to expect," stated Wythe County Tourism Director Jeremy Farley, adding, "By the end of the weekend, we were hearing stories of downtown restaurants having record sales days. I think there's no question that the event did what it was supposed to do – bring people into Wythe County."
County officials are encouraging residents who live along U.S. 21 (Grayson Turnpike) to consider hosting a yard sale during this weekend in order to maximize Wythe County's participation in the multi-state initiative.
"Our goal is that motorists from North Carolina who travel north for the road market event will choose to stay in Wythe County and enjoy the many community events scheduled for this weekend," said Farley.
According to the county spokesperson, Wythe County will be hosting a litany of events for visitors and county residents to choose from during the Road Market weekend:
• The Listening Room House Concert at Ron Ireland Studio (7/24 at 7 p.m.)
• The Rural Retreat Heritage Day Parade (7/25 at 11 a.m.)
• Mountain Top Music at Big Walker Lookout (7/25 at 2 p.m.)
• Dirt Track Racing at Wythe Raceway (7/25 at 7:30 p.m.)
• Rural Retreat Concert featuring Gene Watson & Johnny Lee (7/25 at 8 p.m.)
• Barrel Racing at Rural Retreat Fairgrounds (7/26 at 2 p.m.)
• Mountain Top Music at Big Walker Lookout (7/26 at 2 p.m.)
Individuals wishing to learn more about the U.S. 21 Road Market are encouraged to visit the initiative's official website, www.US21RoadMarket.com, or call the county's tourism office (276-223-4522).
A limited number of yellow "Take a Break from the Interstate: US 21" yard signs are available to residents in Wythe County and the Town of Wytheville. The signs may be obtained at the Wytheville Heritage Center, located at 115 W. Spiller St. in Wytheville.