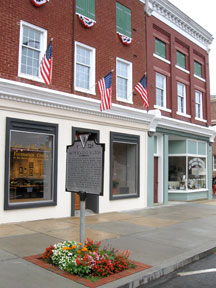 145 East Main Street, Wytheville, VA
www.edithbollingwilson.org
Telephone (276) 223-3484
Tuesday – Friday:
10:00 A.M. – 4:00 P.M.
Saturday:
11:00 A.M. – 3:00 P.M.
"History, Heritage, and Romance."
These three words describe the story of the collection of artifacts, photographs, china, and furniture on display at the Edith Bolling Wilson Birthplace Museum. Each helps to illustrate the story inherent to the life of Edith Bolling Wilson. The Museum includes themes such as caregiving (Mrs. Wilson was a caregiver to many family members, as well as to the president when he was incapacitated from a stroke during his presidency). The other theme the Museum explores is Mrs. Wilson as a role model for current and future generations.
The Edith Bolling Wilson Birthplace Museum is located on the first level of the Bolling Home on 145 East Main Street in Wytheville, Virginia. During the years that the Bolling family inhabited the upper levels of the same building, the lower levels were active store fronts. The Museum collection is currently exhibited in one of these store fronts.
The pre-renovated Bolling Home is open seasonally for public tours. It is in need of renovation and the Foundation is currently in the first phase of planning for the renovation.
The Museum is open Tuesday through Saturday from 10:00 a.m. to 4:00 p.m.