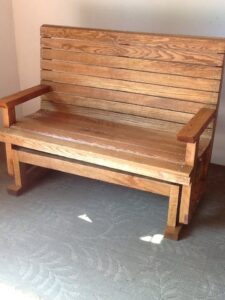 RURAL RETREAT, Va. – Over 35 venders have already registered to participate in Rural Retreat's "Springtime Small Business Day," which is slated to be held this Saturday in downtown Rural Retreat.
Organizers of the event say they hope to showcase the products of home-based businesses, including handcrafted wood furniture, jewelry, crafts and dozens of other items which aren't sold in stores.
Wythe County resident John O'Quinn, a wood craftsman and creator of the event, said it is his goal to give local residents the ability to share their products with potential buyers. "We have a lot of talented people living in this area and 'Springtime in Rural Retreat Small Business Day' will provide these individuals the opportunity to share their products with the general public."
Michael James, Rural Retreat's town manager, said community leaders are happy the event is being held in Rural Retreat and that he is excited to see the many products local artisans and craftsmen plan to exhibit.
"We're always thrilled to showcase our town and are happy to see local businesses succeeding," said James.
Saturday's exhibition is the second small business event held within the town limits of Rural Retreat in under a year – a similar sale was held last November and many venders reported record sales.
Dr. Gary M. Houseman, Rural Retreat's representative on the Wythe County Board of Supervisors, stated that small businesses are the backbone of America and anything a community can do to enhance their presence is a good thing.
"It's good to see a community making a conscientious effort to celebrate and promote local entrepreneurs," said Houseman.
The sale, which is scheduled to begin at 9 a.m. this Saturday, will be held inside the Rural Retreat Community Center located on Catron St. and is slated to last until 3 p.m.
Individuals wishing to make last-minute reservations are encouraged to contact John O'Quinn: 276-389-8972 / johnoquinn53@hotmail.com. Limited vender space is available at the price of $25. According to O'Quinn, the vender fee serves to cover the costs associated with promoting the event.
Rural Retreat is a historic Virginia community which predates the establishment of Wythe County. The town's most notable resident was Dr. Charles T. Pepper, inspiration for the name of the soft drink, "Dr. Pepper."
Wythe County Tourism Director Jeremy T.K. Farley said he's optimistic that the event will draw people into Wythe County.
"Last November's small business day was a huge success and Saturday's event seems to have even greater participation. The community is very fortunate to have so many local citizens taking initiative and actively promoting small and home-based businesses," said Farley.