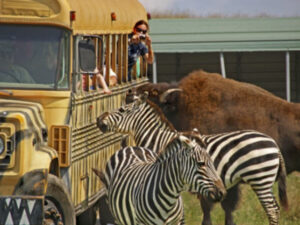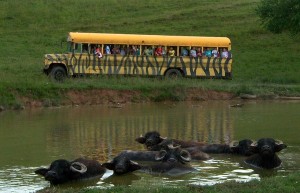 Address
569 Red Hollow Road, Max Meadows, VA, 24360
CAUTION: DO NOT USE YOUR GPS TO FIND US! Mapquest and Google Maps can also be misleading. Read below for directions or give us a call at 276-637-6754.
www.fortchiswellanimalpark.com
Phone:
(276) 637-6754
E-mail:
jt@fortchiswellanimalpark.com
Directions:
Take Exit 80 off I-81/I-77 and turn towards Fort Chiswell onto 52 South. Drive 1.5 miles and watch for Fort Chiswell High School on left. Immediately past high school turn left onto Red Hollow Road. The Zoo is located approximately 1 mile ahead on right.
Virginia's Most Interactive Zoo:
Fort Chiswell Animal Park is Virginia's most INTERACTIVE zoo and is conveniently located less than three miles off Exit 80 on I-81/I-77 in Wytheville, Virginia. Animals from six continents roam across 45 acres and you'll become a part of their world as your guide takes you into their habitat aboard the safari bus. Here, you're encouraged to touch, feed, and photograph. It's the zoo where the animals WANT to see you!
Your visit to Fort Chiswell Animal Park begins in the Gift Shop. Admission this season is $20.00 for adults, $15.00 for children ages 3-12, and ages 2 and under are free. Zoo Chow is available for $5.00 per bag if you would like to feed the animals.
From the Gift Shop, you'll enter the walk-through Petting Zoo area where you will have the opportunity to pet and feed a variety of animals including fallow deer, pygmy goats, and llamas. The monkeys and wallabies are also on exhibit
within this area.
The interaction moves to a whole new level when you board the Safari Bus for an animal adventure like no other! The safari tour brings you nose-to-nose with the zoo's larger animals including camels, zebra, ostrich, antelope, buffalo, and more. Each tour lasts approximately 45 minutes – 1 hour, depending on the location of the animals, and is included in your admission price.
Fort Chiswell Animal Park opened in 2004 and continues to provide the most interactive animal experience in the State. Come discover a zoo where the animals WANT to see you and experience a place you'll never forget.