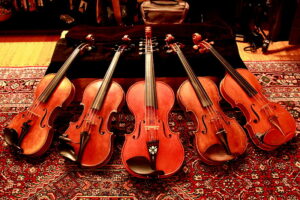 Local businesses and community organizations throughout Wythe County are teaming together in support of the Rural Retreat Fiddler's Convention, scheduled for July 3rd and 4th of this year. The fiddler's convention is being organized by the Rural Retreat – Wythe County Fair Association and will be held at the association's fairgrounds, located on Rural Retreat Lake Road, just south of the community of Rural Retreat.The event will feature at least thirteen different competitions, offering over $3,500 in prizes and rosettes to winners.
Competitions will include old time banjo, old time fiddle, bluegrass banjo, bluegrass fiddle, guitar, autoharp, mandolin, harmonica, dance, folksong, old time band, bluegrass band and youth.
The youth competition will kick the event off Friday, July 3rd, at 6 p.m., while other events will be held throughout the following day, Saturday, July 4th.
In addition to the competitions, the 2015 fiddler's convention will also include a performance by the renowned bluegrass group known as "Spirit Fiddle," who is slated to perform following youth competition Friday evening.
"Spirit Fiddle" has performed at a wide range of venues throughout the world, including The Boston Museum of Fine Arts as well as the Fiddler's Grove Festival, the oldest continuous old time fiddler's contest in North America.
Jim Lloyd, who is a director with the Rural Retreat — Wythe County Fair Association, is helping to organize the festival.
According to Lloyd, registration for the competitions will take place at the fairgrounds and camping fees for the event have been set at $10 per night.
"We want to encourage people to come out and celebrate America's independence by enjoying some old fashioned Appalachian pick 'n," stated Lloyd.
The festival is just one of more than eight different events scheduled throughout Wythe County for July 4th, according to Wythe County Tourism director Jeremy Farley.
"Whether you're interested in music, car racing or traditional fireworks, Wythe County will have something for you this Independence Day," said Farley, who encourages county residents to check out the calendar of events on the county's official tourism website, www.VisitWythe.us.
"It's been a long cold winter and we're excited to kick-off summer with so many community events scheduled for 2015," remarked the tourism director.
Individuals wishing to obtain more information concerning the Rural Retreat Fiddler's Convention are encouraged to contact Jim Lloyd: 276-686-5976 / jimlloyd@jimlloydmusic.com.