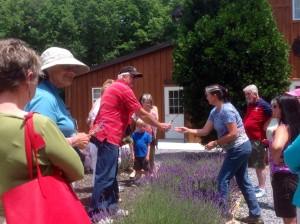 In just a matter of days, Wythe County will serve host to the region's only lavender event, Beagle Ridge Herb Farm and Environmental Education Center's ninth annual "Lavender Thyme."
The all-day event, which is scheduled for Saturday, June 20, will begin at 11 a.m. and conclude at 5 p.m. at Beagle Ridge Herb Farm, located on Matney Flats Rd., south of Wytheville.
Visitors to the lavender-themed festival will have the opportunity to participate in numerous free workshops. Scheduled classes will include how to plant & grow lavender, understanding the plant's medicinal benefits, cooking with lavender, pruning & harvesting, as well as demos on how to make lavender reefs and wands.
Though each of the classes are available to the public free of charge, individuals wishing to make a lavender reef or wand will be required to pay $5 in order to cover the cost of materials.
"The event is just a simple way to thank our customers and community," stated Ellen Reynolds, owner of Beagle Ridge Herb Farm & Environmental Education Center.
Reynolds went on to speak about the plant's many uses, saying, "We've been growing lavender since we opened – there are so many uses for it. The crop is well suited for this area and can be used for landscaping, medicinal purposes, cooking and even pampering in the bathroom – it's such a fabulous herb."
The event will coincide with National Pollinator Week, an international celebration of the valuable ecosystem services provided by bees, birds, butterflies, bats and beetles.
According to research, the number of Monarch Butterflies east of the Rockies has declined by more than 90 percent over the past twenty years.
In observation of National Pollinator Week, Reynolds said the June 20 event will also host authors Judy Burris and Wayne Richards, writers of the books Life Cycle of Butterflies and their latest publication, A World Without Butterflies. The authors will be providing lectures on the important role butterflies play in pollinating our world.
Tours of the education center's Flying Flowers facility, a walk through butterfly house, will also be provided and children will be given the opportunity to create a take-home butterfly craft.
The environmental center will be hosting a lavender-themed lunch around noon – price for the lunch has been set at $9.50 per person and requires pre-registry. Individuals may register by calling 276-621-4511.
"Visitors are welcomed to bring their own lunches and picnic on the property," said Reynolds.
June is proving to be a busy month for tourism in Wythe County, as several community events and festivals are slated for the month, including the Wytheville Chautauqua Festival, which kicks off the previous evening with the annual Chautauqua Balloon Glow.
Share this article with your friends on Facebook!